When I was in high school, I weighed 64 kg. And I thought, no, in my head – I KNEW – I was fat. I would look in the mirror and long to look like those thin, pretty girls at school and perfectly proportioned magazine models. Little did I know that those model thighs and bikini breasts were often altered post-shoot. I didn't realise that my body was perfectly healthy, and my weight for my height, ideal.
I wonder at what age the joy of childhood self-acceptance disappeared to give way to body consciousness. Where the wonder of what my body could do for me became the sadness of perceived fatness and ugliness. When competing at school sports back in primary school and sharing a bath with a friend, became a time of embarrassment. I guess it started early.
I remember a day where I thought, 'If I just didn't eat, I'd have to lose weight'. So I buried my meals outside in the compost so that no-one discovered my choice. It didn't seem wrong at the time, but I knew it wouldn't get approval.
Luckily for me, the lightheadedness from lack of eating I inherited from my Mum and share also with my brother, put an end to that, and promptly. I can see now how it may be a very dangerous, slippery slope to an eating disorder.
In 1993, I headed to the big smoke. From my hometown of Bendigo to the city of Melbourne. I gained approximately 20 kg in under 12 months.
I went from being what I'd perceived as overweight, to genuinely and embarrassingly plump. I started wearing tracksuits to hide behind, thinking that they somehow helped. Maybe rather than actually hiding the weight, they psychologically shielded my emotions in a form of camouflage. No-one tends to notice you when you look like that.
I look back now and can see the path I created for my life, until a few years ago when I decided to get off the self-fulfilling and unhappy roller coaster ride of body despair. I can see the way that one decision impacted on another, powerfully. Then how one poor decision informs another untrue belief and so on.
But, beliefs are persuasive creations.
They are the lens through which we see our reality. As a slight variation on Henry Ford's quote 'Whether you think can or you can't, you are right', whether you believe it is so or not, you are right!
I was always on a diet, always keeping my calories low, and my fat consumption slight. Deprivation was not my friend, but it was a constant companion. Until, as human nature dictates, I would fall off the wagon of deprivation and deeply into the sea of guilt. It was exhausting.
I lost significant amounts of weight twice, but it refused to stay lost and returned with its family. Maybe that sounds familiar?
I gained more fat. I was absolutely positive, for many years – 13 in fact, that I was single because I was fundamentally and significantly flawed…
I knew women larger than myself who had dotting partners, I knew people who were just plain mean to their other half and still appeared to be loved. So, "MAN, I must be horrible! It's no wonder I'm single. I'll never find anyone to love me and be with. Why would I?
How would anybody ever see the inner me when they have to get past the external physical, sheer and unabashed ugliness…"
Do you see the program I ran with for years?
And my blinders were so tightly bound to my eyes that I couldn't see when someone might fancy me. Then this fed back into my sense of self, aggravating and cementing my beliefs each time. Was my sense of reality right? Well, sadly, it was for me at the time.
Then I moved again. The country town I shifted to was cliquey. I became accepted professionally very fast and built a busy practice. However, I was socially lonely, and for a people lover like myself, this was painful.
One day, I got a busy bee in my bonnet. I had really had enough of being single. I signed up for an online dating site! I decided if I didn't 'meet the one', it was a great opportunity to get out there and make some new friends. I think this approach was one of the best decisions I made. I was happy with friendship at that stage, so the pressure was not as intense.
Saying that I was terrified to upload my picture for fear of rejection, but I wasn't rejected… I was popular!
I received lots of RSVP.com kisses and went on dates. I had fun and was asked out many times. Wow! This was a revelation to me… And that's how I met my husband.
I was 76 kg and self-conscious then, but the dating had given me some new found and much-needed confidence. I stopped hiding because I'd decided to put myself out there. On our fourth date, nine days after our first meeting, Dave asked me to go to England with him for Christmas to meet his family. The rest of my single life is, as they say, history…
But my body image?
Well, it was changing. Slowly.
While together, we discovered white bread, balsamic vinegar, and olive oil go very well together. I was happy, but my weight crept up. And up. And I'm sure you know what happened next. Before I knew it, those torturous scales told me I was 90 kg.
So what did I do?
I stopped weighing myself and pretended that my weight remained here. I know it didn't. I kept obsessing and commenting about my weight often, apparently. I think this song had played for so long that the words were imprinted on my very soul. Dave continued to tell me I was beautiful, that my body was attractive, and that I didn't need to worry. He wanted me to love and accept myself and to have fun being me.
After years of his kind brainwashing, I feel I emerged from the weight fog of my life. Together, we began to rewrite the words of my body song script. His love, and then my self-love and acceptance, was a foundational piece in my body recovery. There were ups and downs, times that weren't easy, times when I struggled and resorted to my earlier script. But I had my co-author lovingly beside me, telling me I was beautiful, showing me I was adored and eventually he broke down the barriers.
I dropped 26 kg over the course of 18 months and have maintained this new me, physically, emotionally, mentally and spiritually rejuvenated.
And it is liberating!
I don't have cravings or choose bad foods. Why? I don't want to. It's not an effort to maintain my weight. Actually, it's pretty easy. I do sometimes jump on the scales. But it's just a check-in, one sign that's all. I don't have an emotional attachment to the 'result'. I don't freak out if I weigh 1 kg more than I did last week. I know that it's natural for my weight to fluctuate 1 or 2 kg, depending on many different things. The number doesn't define my worth.
My journey has been quite profound, and I see so many others still suffering. So, I am writing again. This book is about the physical, nutritional, emotional, mental, spiritual reasons why we gain weight and how to turn this around – WITHOUT DIETING!
My aim is to help you gain clarity, to see yourself and the beautiful being you are, and to completely remove the guilt and shame that comes with being overweight and obese.

Let me know if there is anything you'd specifically love to know about this and stay tuned for more!
From PCOS to perfect health, with love,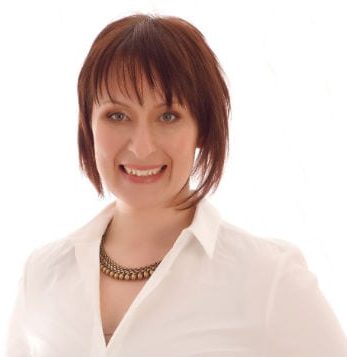 Dr. Rebecca Harwin
The PCOS Expert
Chiropractor & Bestselling Author of
Conquer Your PCOS Naturally
www.ConquerYourPCOSNaturally.com
P.S. Head to our Facebook page and hit 'Like'  to keep up with the latest on this life-changing project and other great PCOS tips and strategies.
Note: this book is not just for women with PCOS so feel free to share it with others you feel it may help.
---
Love to pin? Share the love…