---
Acne is something no-one wants to deal with, especially in your adult years! After suffering from this skin problem in your early teens, the last thing you want is a return to those spotty, painful, unattractive blemishes! But PCOS acne is a very real thing.
Your concerns should have shifted to wrinkles and grey hairs 🙂 However, adult acne is a lot more common than you think!
Research has shown that "A degree of facial acne was recorded in… 54% (of) women and 40% (of) men."  These results prove we're not alone out there, as that's nearly half of us who suffer!
Not to worry, there are some super simple steps out there that can be taken to prevent and reduce acne struggles.
Tackle the cause
Identifying the potential cause is one of the first steps to prevention and treatment. It is important that we take a step back to evaluate all aspects of our life to try and pinpoint what may be causing our breakouts.
Identifying where your breakouts are coming from is a good indicator as to what the underlying issue may be, and how you can, better yet, prevent it.

Tweak your diet
Maintaining a healthy balanced diet and making an effort to include skin thriving goodies are super important. Here are a few that you should make a conscious effort to squeeze into your diet, assisting your skin with the prevention of acne.
And remember, low glycaemic load options have been shown to help reduce acne.
Green tea
May help reduce androgen production, preventing breakouts.
Avocado
Has been shown to topically help, and so increasing your dietary intake is a wise option.
Nuts
Studies show zinc supplementation can help reduce acne. Nuts are a rich source of zinc, and adding these to your diet may help your skin. Nuts also contain B group vitamins, vitamin E, minerals such as calcium, iron, and magnesium, and antioxidants.
Fish
Rich in the omega 3 fats your body needs to reduce the inflammation associated with acne.
Fresh fruit and veg
Rich in beta-carotene! Adding as anti-inflammatory foods and helping to clear impurities from the body, there are so many reasons to increase your fresh fruit and vegetable intake!
Unsweetened almond milk instead of cow's milk

Dairy has been linked to a higher incidence of acne, and so other options for your 'milk' intake are a great idea. Just remember, they must also not be high in sugar.
Tea tree oil, our favourite natural remedy!
Tea tree oil is one of our favourite natural remedies for acne prevention, with proven results! Tea tree oil contains natural antibacterial properties which destroy the nasty bacteria that contributed to acne, acting as a great prevention!
Don't dry out
While we often associate oily skin with acne, dry skin can cause us to break out too! If your skin is too dry, it won't be able to maintain its cell turn over leaving you with clogged pores, which means pimples! Being dehydrated, using very hot water to wash your face, and over washing your face are all factors that cause your skin to dry out. This means your body will go into oil production overdrive to try and fight it, leaving you with pimples. Keeping hydrated, using a non-oil based moisturiser, using lukewarm water to wash your face and using hydrating beauty products are simple methods you can follow to maintain your skin and prevent acne.
Go topical
There are times in our lives when our PCOS acne breakouts feel like they're starting to become out of control. This could be due to factors such as stress or lack of sleep. It's times like these when a topical treatment can reduce and help further prevent our acne.
Medically speaking so you know what options you may be given here:
Benzoyl peroxide, retinoids, and azelaic acid are topical treatments used for PCOS acne.
Retinoids are often used in the early stages of acne when you are first starting to break out. It assists with unblocking pores and managing and treating blackheads, whiteheads and mildly inflamed areas.
Azelaic acid also acts to unclog pores, clear up blackheads and reduce inflamed areas. One of the topical medical treatments that cause less skin irritation, this is a recommendation for those who have sensitive skin.
Benzoyl one of the most popular topical treatments out there has three major actions, kills bacteria, reduces inflammation and helps unclog pores which helps assist our skin with the management of acne.
Natural topical treatment approaches for women with PCOS acne
As you will probably have guessed, I prefer natural and health-giving options. So in addition to the above steps, I've seen the most remarkable results for skin health (including my own :)) with the triangle and Fleuresse here. This is what I use.
With the right information and approaches, you can reclaim vibrant, blemish-free skin.
From PCOS to perfect health, with love,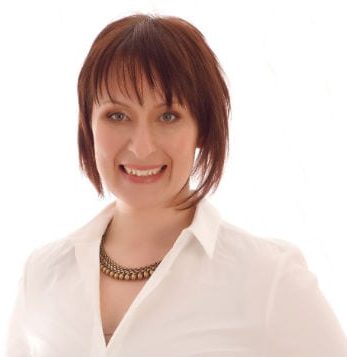 Dr. Rebecca Harwin
The PCOS Expert
Chiropractor & Bestselling Author of
Conquer Your PCOS Naturally
www.ConquerYourPCOSNaturally.com
P.S. Get your copy of my Amazon bestselling book Conquer Your PCOS Naturally to discover in-depth proven approaches to improve the health and look of your skin.
---
Love to pin? Share the love…