---
Don't you feel great after getting a good night's sleep? There are good reasons for this and why sufficient sleep for PCOS is critical. During sleep, your body is busy repairing itself. The benefits of sleep for PCOS are numerous and noteworthy. In this article, we share five of the most significant gains from the precious gift of sleep.
1. Sleep Promotes Slimming
And secret to PCOS weight loss is a super blessing, right? Well, sleep is like food for the brain! During sleep, your brain is producing hormones that affect appetite and metabolism. There are four hormones in particular that govern hunger:
ghrelin – tells your brain it's time to eat
leptin – signals when you're full
cortisol – warns your body to save energy
insulin – helps the body process food
When you're unable to get enough sleep, your body makes more ghrelin, increasing the hunger gremlins. Leptin levels plunge, telling your brain to eat more food. Release of the stress hormone, cortisol, also increases. Sensitivity to insulin drops, making it hard for your body to process fat. As a result, fat is stored rather than used. In a nutshell, inadequate sleep prompts you to eat more, and store your food as fat.
Forbes magazine explains the benefits of sleep for weight loss in "Change Your Sleep Schedule To Lose Weight." The article cites a university study of 300 women, aged 19-26, who used activity trackers to monitor their sleep. The women's body fat was recorded before and after the study. Researchers found that a regular sleep schedule and sound sleep rendered lower body fat.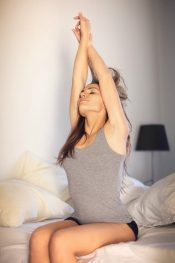 2. Sleep Makes You Smart
Getting adequate sleep sharpens your mental faculties by:
Increasing Creativity
Research shows that the ability to find creative solutions to problems is enhanced by deep sleep. Answers often arise during sleep through a process called "pattern recognition." When your brain is relaxed, it forms new nerve connections. A 2009 German study in the journal Nature found that sleep improves creative thinking for the following day. When study participants had 8 hours of sleep, they were better able to find the hidden rule in a math quiz than those who got less sleep.
Promoting Learning
Sleep helps your body better understand the day's events.
Improving Memory
While you sleep, your brain performs "memory consolidation." This is the process of converting data from short-term to long-term memory. Short-term memories are stored for only 20-30 seconds! For information to be retained for later use, it must be converted into long-term memory. This happens during deep sleep. Nerve cells engage in friendly chat and establish stronger connections. This improves the process of recall. In the April 2013 issue of News In Health, the benefits of sleep on memory are discussed in detail.
Increasing Attention Span
Sleep improves our ability to focus. Focus is the act of not being distracted. When your brain is tired, it can't focus.
3. Sleep Reduces Pain
Getting extra sleep has the power to relieve pain, and PCOS pain is a common complaint. This was demonstrated in a December 2012 study at the Henry Ford Hospital in Detroit. The study involved 18 healthy, pain-free subjects who were randomly assigned to four nights of either regular sleep or 10 hours. Pain sensitivity was assessed by holding a finger against heat. Those who slept 10 hours were able to do this exercise 25% longer than those who slept less. The significant pain reduction was likened to the effect of taking a 60 mg dose of codeine twice a day. The reason cited is the ability of sleep to reduce inflammation.
The details of this study were published in the December 2012 issue of Sleep.
And to read more about PCOS pain reduction techniques, check out my article Is This Inexpensive, Simple Strategy An Important Answer.
4. Sleep Improves Sports
Extra sleep can make you a better athlete. Research reveals that extra sleep speeds muscle development, strength, and endurance. Well-rested athletes react more quickly and precisely than those who are sleep-deprived. This was shown in a study of swimmers by the Stanford Sleep Disorders Clinic. The athletes were assigned to sleep 10 hours a day for 6-7 weeks. As a result, their swim times, reaction times, and turnaround times improved.
Stanford has conducted similar studies on athletes competing in football, basketball, tennis, golf, track, and cross-country. The results of each showed that extra sleep yields improved physical performance. Researchers cite the reason as an increased release of growth hormones during additional sleep.
Details on these studies can be found in the journal Sleepdex.
Imagine, if sleep is so important for primed athletes, what it can do for you!
5. Sleep Reduces Stress
Sleep provides relief from stress. According to Dr. Manny Alvarez, Senior Managing Health Editor for Fox News, sleep is one of the best natural remedies for stress. Dreaming is the magic element of sleep that reduces stress. A UC Berkeley study published in the November 2011 issue of Current Biology demonstrates this. The study revealed how sleep enables the brain to process emotions by reducing the activity of certain chemical messengers.
In the study, 34 young adults were shown images that induced stressful emotions. The subjects were then permitted to engage in deep sleep. Afterward, researchers tracked the electrical activity in the brain regions involved in emotional response. They found that the activity in the amygdala, the brain's emotion center, dropped during deep sleep. As a result, the subjects had markedly decreased reactions to the same images a second time around, compared with those who had stayed awake. During dreams, the brain produces more of the chemical messengers that mollify stress.
To read the abstract of this study in Current Biology.
The Magic Numbers
According to the Centers for Disease Control and Prevention, below are the magic numbers that will enable you and your loved ones to reap the benefits of deep sleep:
adults – 7-8 hours
teenagers – 9 hours
school-aged children – 10 hours
toddlers – 11 hours
babies – 16 hours 1/
So, sweet sleepers, we say to you, nighty-night, sleep tight, and pleasant dreams!
From PCOS to perfect health, with love,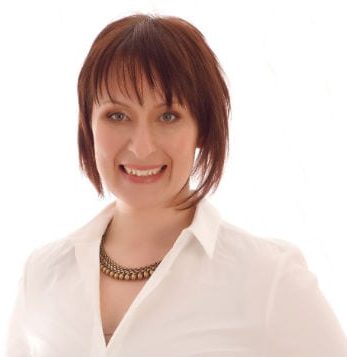 Dr. Rebecca Harwin
The PCOS Expert
Chiropractor & Bestselling Author of
Conquer Your PCOS Naturally
www.ConquerYourPCOSNaturally.com
---
Love to pin? Share the love…