---
Hey, there. This is Dr. Rebecca Harwin, founder of Conquer Your PCOS Naturally. I sometimes get asked how I go into this PCOS thing, so I wanted to explain my journey and how I came to be doing what I'm doing now.
So early in high school, I probably was about 13, I had lots of my friends all getting their period and I guess some had pain, some didn't. But it had happened, and I didn't start getting my period until, well, quite late. I think probably I about 15 I had my first period. And then I had my second one when I was in later high school. And it drenched my uniform because I couldn't tell when it was actually going to happen. And then that was the last period that I had naturally for 15 years, which is quite a long time.
So when I was diagnosed, I was 17. We'd gone on holidays and we were down at Apollo Bay. And I had immense pain in my abdomen. And we got back to Bendigo, which is where I lived, and saw the doctor. And I had an ultrasound and was told that I had this thing called Polycystic Ovary Syndrome. But no one could tell me anything about it. And most of the doctors back then, because it was a while ago, hadn't even heard of PCOS, let alone be able to give me any advice at all. The doctor that diagnosed me actually diagnosed me on ultrasound alone, which you probably know is not how you're supposed to be diagnosed. But anyway it turned out that the diagnosis was correct.
So then come to turning 18 and I want to university in Melbourne. And I put on about 20 kilos within the first year of living away from home. So there was stress and change of environment, change of food. But once I gained the weight it'd just become an issue. My period didn't come back at all as I said. I got acne, I had excessive hair growth.
And I remember when I got in to study Chiropractic, which was quite a number of years later, we'd have to go in and do these classes where we actually had to get down to our underwear. Because we had to be able to see the body and how it works and what connected. And I had to basically de-fluff myself. So I felt really, really hairy. Very unfeminine. And so I'd spend hours in the bathroom trying to strip all this hair from my body because I didn't want anyone to be able to see that there was anything wrong with me.
So I went to see an endocrinologist and he just told me, oh, you know, just lose weight and exercise more and you'll be fine. And my experience in the experience of lots of women is that we're blamed and we're judged and we're told, oh, well, it's your fault. And, anyway, it's quite frustrating.
So push comes to shove, and what I really wanted was to be able to lose weight, to get rid of the excessive body hair, to get some energy, to get my periods back would have been nice. And just to feel like a woman. Feel feminine again. And it all came down to that pretty much. I didn't feel feminine and I didn't feel lovable.
So, anyway, I was single for 13 years and one of the things I learned from my husband is just to love myself. And that started to change everything. So it was so frustrating. I just couldn't … I couldn't get the correct advice. I just kept getting told, just eat less and exercise more. And the dieticians' advice was dangerous. What do they say? Eat six meals with carbs in it a day or something that's going to basically kill women with PCOS and diabetics quite quickly.
"I just kept getting told, just eat less and exercise more"
I also went to gym, I played netball five times a week, and I just couldn't lose any weight. So what I found was that the regular advice just doesn't work for women with PCOS. So even if we train ourselves into oblivion and we try starving ourselves and we beat ourselves up, it's not going to work. And it's not our fault.
So what I did was I started going to seminar after seminar and I read and I researched. And I used myself as a guinea pig. I talked to other women with PCOS and I listened to my patients because people have a lot of wisdom. They've been through a lot of stuff. And as I tried over the years, I'd miss pieces and I didn't succeed. And I remember with my period … like I said it went AWOL for over 15 years. And I'd done everything and I'd lost lots of weight and I'd try really hard to be careful of my diet.
It didn't work and the last piece of the puzzle actually came when I was at an ACNEM, Australian College of Nutritional and Environmental Medicine conference. They were talking about the importance of omega-3s and healthy fats. And I'd been vegetarian now 30 years since I was 13. So it ended up being the omega-3 fats that triggered my body finally and I got a period, which was quite a shock to me.
"… it ended up being the omega-3 fats that triggered my body finally and I got a period"
And I remember another time, I was in Melbourne. I'd just gone to another conference. And I had this sticky stuff in my knickers and at 31, 32, I had read about it. I knew about egg white cervical mucus and what not. But I hadn't had any. So I got into my 30s without basically probably ovulating in my whole life.
And then I had other I guess challenges along the way. I worked out that I needed to have a full thyroid panel, that I actually needed to get my thyroid tested correctly. And that the results had to be within 1 to 2, 2.5 at max for TSH because that's linked to insulin resistance. But being able to get a doctor to test that was nigh-on impossible, and I was told, "Oh, it's ridiculous. That's not the way the body works. You're not informed." And all of this kind of stuff that you've probably heard a million times from doctors as well.
So I worked really hard and I didn't see success with everything until quite late. Probably about eight years ago. And my husband would go on a diet and he'd shed all the weight that he wanted to really, really quickly. And that would be that.
So I just made some notes, because there are a few things I didn't want to miss out on. So let me just find them. Okay. All right. So after I finally did lose weight and my period came back and my acne went away, and I remember going to a beauty therapist and having my legs waxed. And she said, oh, you've hardly got any hair. And so that was from years of doing what I know what to do now. So I felt like I had a responsibility to other women with PCOS who are struggling as well. And that's why I wrote Conquer Your PCOS Naturally. And that's pretty much why I do what I do.
Learning what I did, I lost 26 kilos all up. And I felt feminine instead of feeling manly. And healthy and really importantly, I felt in control. And when I started sharing my journey, I still remember the first email, from a lady that had been trying to conceive for three and a half years. And from following the advice that I shared online, she succeeded. So she was due to get married and she was going to … I think the next step for them was IVF. And she didn't have to. So just knowing that I could make a difference is pretty much why I do this.
"And I felt feminine instead of feeling manly"
So anyway, then a couple of years ago … I've got chronic pain and I've got a bunch of injuries. And I took some medications which are not normally my thing, but anyway. And then over the course of the next couple of years, I put on 12 kilos. And I tried really hard to do the things that had worked and they just didn't. I went low-carb and tried low-calorie and exercise and whatnot. And I lost I think .6 of a kilogram in three weeks. So that probably was just meant I'd had a drink of water before I weighed myself the last time.
So now I have surgery tomorrow and then fingers crossed that will help and I'll be able to get back to losing weight. So if you've got any challenges with your weight or you're on medications and want to see if there's some way to actually I guess circumvent that … Or, importantly, if you can't exercise, because so many women with PCOS have pain. So if you can't exercise as much as you'd like or as much as you're being told to do, then hopefully my journey over the next little while will help inspire you and we'll see what works.
So anyway have a great day. Thanks for listening, and I will talk to you again soon. Bye.
From PCOS to perfect health, with love,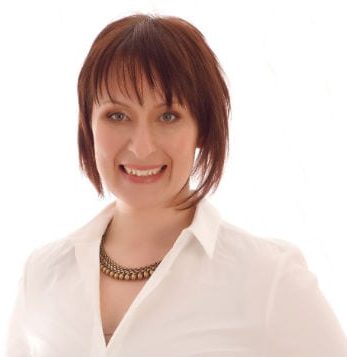 Dr. Rebecca Harwin
The PCOS Expert
Chiropractor & Bestselling Author of
Conquer Your PCOS Naturally
www.ConquerYourPCOSNaturally.com
---
Love to pin? Share the love…