---
I love sharing the journeys of women with PCOS as these remarkable women bravely offer inspiration, guidance, reassurance and their experiences. Today, Criss shares hers…
My name is Criss, and I have known that I have PCOS since 1998. Even though I probably had it as a teen, because my periods where never on time like the other girls. At the time all that meant to me is that I couldn't have children. Because that is all I was told. Nobody I knew had even heard of PCOS.  It was very isolating.
At the time I'd already had a daughter.  She was almost 4. I was on the pill because I didn't want an unplanned pregnancy,  but my periods were getting worse. I am talking just coming from nothing to flood.  Seriously bad cramps, and uncontrollable bleeding.
My weight at the time was also a concern; before my daughter was born I was slim. Size 10. Could buy things without trying them on and it fit. After she was born my weight returned to normal, but over the next few years it was creeping up and I wasn't really eating any differently.
So I was referred to a gynecologist because of my periods on the pill.  He booked me in for a D&C, and a look.
The specialist's words forever burned in my memory ……. 
"You are a mess in there.  You have PCOS.  Polycystic Ovarian Syndrome,  you can never have children like that. Even with IVF, your chances are not good. Your first child was a fluke and it will never happen again."

So you can imagine my shock, my upset of being told that I was now infertile, plus to top it off no help for these periods. The clean up did help a little I must admit. But that was that. Goodbye.
So over the next 4 and a half years, I continued to battle my weight. I was yo-yo dieting. Trying everything.  Not getting anywhere. I also stopped taking the pill.  What was the point if I can't get pregnant?  So my periods disappeared or came randomly over a period of months. This I didn't mind at all.
At this stage, the Internet was only starting to be what it is now.  I didn't use it,  home phones were how we communicated and emails were the new thing. I did not have a mobile phone. Libraries and bookshops were my only source for information and stuff on PCOS was non-existent.
I started another health fad diet.  I was cooking homemade soups and the family was eating less take out and more home-cooked meals.
Along with my yo-yo dieting came a yo-yo with my moods. I'd go from utterly happy to angry.  I was depressed, fat,  and frustrated.  My sex drive was over the roof.  We didn't have much money. Hubby was out of work and I was working casually. So tensions in the house were high a lot of the time. Our marriage almost ended.
We started our own business, debts become bigger,  so I worked every chance I got outside the business.  My weight gain was again creeping up, because I was tired and stressed and working from home, working 2 jobs outside of the home and raising a child. So Maccas was becoming a staple again.
Once things settled down again, I started eating better.  I joined a group of mum's and we'd take our kids walking every night after dinner.
It was not only exercise but social networking and good for letting off steam.
During this time my periods didn't happen at all.  Once every 10 months maybe. My weight maintenance stayed stable,  it didn't go down, but at least it wasn't going up. My moods improved, but I was still all over the shop and cried a lot. I was really unhappy with myself. I hated myself.
All past trauma would come to me at these times.
I was sexually abused as a child and had received counselling as an adult to help me deal with it.
So I resorted to my old self-help books. Louise L Hay, How to heal your Life. Positive affirmations. All that kinds of thing to help me stay out of the dark places of my mind which would only hurt me. It helped a lot.  Learning to love yourself is very healing.

It was at that time I became pregnant again. Shock horror.  Just when I had finally accepted that I would never have children again, gave away all my nursery things,  bam baby number 2 was on the way.
I was thrilled.  Hubby was thrilled.  I was healthy, eating well – taking care of myself. Walking.  But still working a lot.
My son was born and life went on. Until the business started struggling, and I had to find more paid work because my casual job since having time off for our son didn't have the usual hours for me anymore.
Hence became three years of working several jobs, none paying much, and all casual and random. Applying for jobs, interviews. Resentful of my time away from the kids.
I was getting sick a lot. Always sick.  Looking back it was not surprising really. I worked hard I was burnt out.  I came home one night after being let go from another causal job.  I had been sick a bit.  Throwing up a lot, but still working, I thought it was nervous tension. I didn't like the job I was doing. That night I got the mother of all periods.
Pain,  holy cow,  and I bled so hard I found myself sitting in a pool of it.  Hours of pain and heavy bleeding. Blood clots.  Then it settled.
A week later I told a friend about it and she became alarmed and said what I described was exactly what she went through when she had a miscarriage.
I went to the doctors and even though it was too late to find the hormones to confirm pregnancy, he believed that I had indeed miscarried.  So the throwing up was not nervous tension from the stressful job I'd found myself in, which I hated. I was actually relieved they let me go. Not that I wasn't doing a good job, but I couldn't work the hours they wanted me to do for a short time, because I had another job and that was more stable than this one, plus I liked that one, so I said no. Smart move because that little office is gone now.
I didn't have time to dwell on the loss.  It was surreal because I didn't know I was pregnant. It did haunt me a little. But life and 2 kids left me little time for self-pity.
I started another job. Four weeks from losing the baby.  I was tired.  The circles under my eyes dark.  My hair was thinner. But I stayed positive. Practiced meditation.
Into my 6 weeks training, I started noticing the tea tasted funny. I thought they bought cheap nasty tea.  But I craved things too and was definitely feeling heavy in my breasts.
I thought, no, it cannot be happening again. I'm old now at 36. I didn't want to second guess if something went wrong. Like last time, my symptoms were the same. I threw up,  felt off, so one night I took a pregnancy test kit from the cupboard.  I had taken hundreds of them after I was told that I couldn't have children. I didn't want to believe that doctor, so I went off the pill and for a long time every month when my absent period didn't show up I'd take a test and hope that was why, and cry for a day or two mourning the fact that I was infertile and broken as a woman.
It was positive.  But I needed the doctor to confirm it. So off I went.  Yes, I was. Everyone was happy,  hubby cranked the bbq and I went to the loo and to my horror I was bleeding. I rang the doctor back and he arranged for an ultrasound for first thing in the morning. I wasn't going to tell my new employer yet, but I had no choice,  thankfully I didn't lose my job.

That night was awful.  Had I not known I was pregnant, I would have thought it was a silly period.  I prayed all night that I didn't lose this baby too. That ultrasound was amazing. They found a heartbeat. Baby was alive! We both cried tears of joy, relief, and sadness for our other baby who never knew we loved them too because we did only after they'd already gone.
Tough pregnancy,  nearly lost baby 3 times.  Worked three jobs while pregnant, which didn't help, but when you have no choice you do what you do.
Baby number 3 arrived and hubby had a vasectomy.  Not risking this infertile woman anymore….. she apparently isn't infertile.
This baby was a hard baby.  My weight ballooned.
We barely got 4 hours sleep a day.  I was emotionally and physically exhausted and getting sick all the time again.
Moving house didn't help with stress either. But one thing did happen at this point.  We had Internet, and one day I Googled PCOS trying to figure out what the hell was wrong with me.
I came across Rebecca Harwin and Conquer your PCOS Naturally.
It was the first time I discovered what I had.  A lot more than just infertility.
I used her book like a bible.  Changed my diet, ate healthily,  became more in tune, explaining things to my husband which actually helped our marriage because he could understand that I wasn't like this because I chose to be, it's out of my control.
I started taking the recommended vitamins and immediately started feeling better. This changed my life. No doctor was able to do this for me. They would just tell me to lose weight. Not listen or believe me when I said I was dieting.
I have no idea what weight I was at this point because once I reached 100kgs I didn't want to know anymore.  I was wearing size 22 pants.
The weight was dropping because I reached size 18. I felt happy. This book started me on my healing journey.
Kids were older,  I had a stable job at last, and so had hubby. Things were good. I started getting my cycle back, regular. Which was for me a first. But my weight loss stopped at this point. But I was feeling the healthiest I'd felt in years.
The lack of further weight loss bothered me, however.  I counted calories, and exercised, and ate well, but it didn't make a difference.
Rebecca Harwin became my source of information and hope.  I found her on Facebook, and joined a group and found myself no longer alone.
Through this, I felt empowered and realised how some other women had far worse issues than me.  So I have thinning hair and a hairy chin, and I am still fat, but not as fat as I was… I learned to accept it, and embrace it, and stop being ashamed by it…
But then I, unfortunately, had an accident, and now have chronic back issues and pain, so during that year, I regained my weight because hubby can only cook pasta and rice and so I began my slow journey back to size 22. I was so depressed. As soon as I could I got back to trying to follow the PCOS diet. I saw doctors and was put on metformin, but it did nothing for me except make me sick.
I decided to learn more about food for myself. The juice diet, you name it, I looked into it. All expensive and none family friendly. Until I discovered the keto lifestyle.  Together with Conquer your PCOS Naturally,  I modified the diet plan.
Youtube is now a huge thing and using that I found Dr. Berg.  He explained insulin resistance to me in such a way it finally made sense.
With Rebecca's book, which is my bible base, and this new knowledge about insulin resistance I adapted my lifestyle and reduced my carbohydrates to no more than 20 to 30 grams a day, and practiced intermittent fasting.
Apart from that, my diet and vitamin routine remained the same.  I also made sure that I got eight hours of sleep.  Gentle exercise that I can manage with my back,  and again fine-tuned my self-love. It's easy to hate yourself when you are unhappy with the way you look. But it's not healthy.
After that, the weight again began to drop.  I lost 14 kilos. Easy. It's a huge difference, I am a size 18 now and people notice and comment all the time.
I still have a way to go, but my periods are clockwork.  My ovaries are no longer polycystic.  It's been for over 4 years now.  That's thanks to Rebecca.  I take no medication for PCOS symptoms anymore.  My last blood test was perfect.
I am healthy and rarely get sick.
I am happy.  My out of control mood swings, stable.
I understand food is medicine.
And through Rebecca, I have a circle of other women like me and we encourage each other and share information and we are not alone anymore.
Criss,
Adelaide, Australia
From PCOS to perfect health, with love,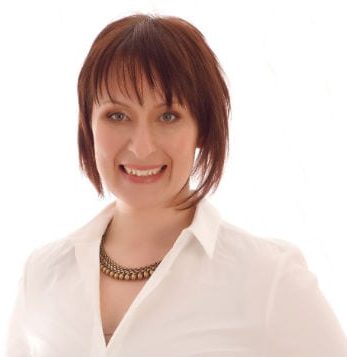 Dr. Rebecca Harwin
The PCOS Expert
Chiropractor & Bestselling Author of
Conquer Your PCOS Naturally
www.ConquerYourPCOSNaturally.com