---
From PCOS to hope and success… Is it possible?
Polycystic Ovary Syndrome, aka PCOS, can feel very isolating. We can feel all alone, hopeless and helpless. I've been there, and so have many others. That's where the power of stories and the experiences of other women can really help. Stories like DeAnn's…
"I am not sure exactly what my first real symptom was.
Maybe it was inflammation, I used to have such trouble with pain in my right wrist, which I contributed to Carpal Tunnel Syndrome, which was at the age of 12 or the acne that I got at the age of 13. I had acne bad! I blamed my dad for passing on that gene because he too had it bad. In reality, just maybe, it was the first symptoms of PCOS?
I was later than most of the girls I hung out with in getting my period for the first time ever. It was my Senior year of High School when I started missing a period here and there. When I entered College, I was 18, I started having a lot of stomach problems. This is when mom started taking me to the Dr to figure out what was going on.
They did ultrasounds and all kinds of poking and prodding but came up with nothing. We later found out I was allergic to MSG, but later I noticed I had different kinds of stomach pains when I  ate MSG and at others times I had an altogether different type of pain, and I felt more panicky. I kind of think I was having panic attacks, just looking back.
One of the things I did tell my Dr during those early visits was that I hadn't had a period for 6 months and wondered if that was a problem. He didn't think it was good, so he put me on birth control and had me get my first pap smear, which was a horrible experience.
A year later, I needed to renew my prescription to my birth control, but in order to do that, I  had to have another pap smear. I about freaked out, because my first experience was terrible. My mom had me go to her nurse instead, which is where I first heard about PCOS. She just thought I might have it, but couldn't really diagnose me since I had been on birth control pills and probably didn't have any cysts on my ovaries. This was in 1998, and at that time apparently, the way she was diagnosing women with PCOS was through ultrasound.

So, on I went. For the next several years, I was on and off of birth control. When I was off of it, I could go six months with no period, and then bleed like crazy for sometimes a month. Sometimes, my periods would be so heavy, I would wear a tampon and two pads and change every hour. I would sometimes be so afraid to go out in public. It was awful.
My acne came and went. Sometimes my skin would be nice and clear, and other times just plain awful.
In my early years of College, with all the stomach problems, I became really skinny. In my later years of College,  1999-2001, I noticed, my weight began to creep up on me. I didn't eat so well on my own, lots of bread.
I had a full load of 12-16 credit hours in college and worked 35-40 hour weeks on top of that. So no doubt lots of stress in my life.
I graduated in 2001 and moved on to my career. Let's fast forward a few years, to the year 2008. I was 29 at the time and was running my own daycare. I had realized that there were things to be happy about in life, as I loved my job. There was one problem. PCOS was controlling my life. I had never had a proper diagnosis but felt that this was what I had, as I had so many symptoms.
I remember calling my mom one night frantic and in tears. (My mom is a nurse). I was so fatigued, my hair was falling out, but growing in strange places, my periods were totally whacked out. (You would think I would be used to it by now, but who gets used to periods like that?), my acne was bad, but not only on my face, but on my back and chest now, I was heavier than I had ever been, and I was extremely moody. I am a pretty gentle natured individual, but when my hormones are swinging, I become someone I don't even recognize. One minute I am happy, the next bawling, the next screaming in anger, the next extremely depressed, the next laughing. You get the picture. I was a MESS and I did not want to live like that anymore. My mom didn't do much in that phone call, but listen and empathize with me. A few days later she called me with an endocrinologist's name and number.
A few months later, she and I were on our way out to see this Dr. and he was the first one to be a life saver! He started from square one with me, ran lots and lots of blood work, (I wasn't sure I was going to have much blood left to survive on), but alas, all the test came back with positive proof that I did indeed have PCOS.
He started me on Metformin and within a year, all my symptoms except for the fact I still was overweight, were practically gone.
In 2011, I decided to try the HCG diet (not recommended) in which I lost about 30 lbs. I felt great, but the diet was too strict and I didn't last long on it. Soon my weight started creeping back up on me. Not to mention I was going through a GREAT deal of stress in my job, which at that time was as a preschool teacher. I ended up quitting at the end of that school year. My weight, however, kept creeping. I had a difficult time taking Metformin because it would make me so sick.
I started my daycare back up, and in the summer of 2013 began to walk with friends. I decided I needed to do something to get myself back to where I had been. Several of the diets I tried, just didn't work. So, to the library I went to look for this diet by Chris Powell. The book was so popular that I had to wait in line to even get to check it out, which was months away.
So instead I decided to go back to my research on PCOS. So I checked out several books. One of the things I noticed as I read that the newer the book the more information there was and the treatments began to change. The latest book the library had was copyrighted in 2008, but I was very curious if there was a more current book written.
So, on to Amazon I went. There was one copyrighted in 2013, but the reviews were not so good. The next one was copyrighted in 2012 the reviews were amazing. Yep, you guessed it, it was written by Rebecca Harwin. So, I took a chance and bought it. I feel that that move was one of the best moves I have made.
Rebecca has given me so much hope, even though I am just starting this journey all over again. In six weeks of being on a gluten-free diet and very LOW sugar diet, I have lost 10 lbs. Granted, there have already been a few bumps in the road, and life sure has a way of throwing a curve ball your way, but with the support of Rebecca and several lovely ladies, I know I can get back upon my feet and continue to figure out what is going to work for me and with one small step at a time take control of my PCOS, rather than it being in control of me!"
DeAnn Creech
Salina, Kansas, USA
DeAnn's story inspires me. I hope it empowers you.
And if you have an inspiring story you'd love to share, contact us on info@ConquerYourPCOSNaturally.com
From PCOS to perfect health, with love,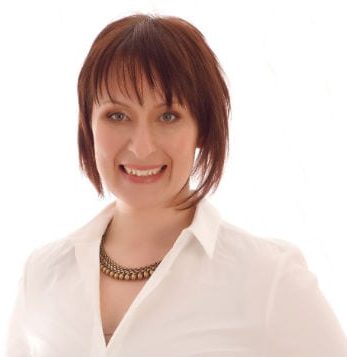 Dr. Rebecca Harwin
The PCOS Expert
Chiropractor & Bestselling Author of
Conquer Your PCOS Naturally
www.ConquerYourPCOSNaturally.com
P.S. If you haven't yet read Conquer Your PCOS Naturally, I highly recommend you do.
---
Love to pin? Share the love…