---
If you are struggling with PCOS and find your internal chatter wondering "Why me! Why am I cursed with PCOS?!", you need to read this post!
I asked Danielle from PCOS Aware to share her inspiring journey and insights, and asked her to… and I know this may sound very odd… explain how she came to realise that there are benefits to PCOS. How she changed her PCOS mindset and hauled her wonderful self on top of this syndrome, plus her clarity and joy on her new journey.
Here are Danielle's thoughts,
Enjoy!..
"One Sunday afternoon I sat in a comfy couch and started writing, to get clarity on what I've learnt. That's the thing I value most about having PCOS – it's set me on this path of learning much more about myself than I would not have explored without it.
Here's my top 5 learnings:
1. Dealing with Shame
"Shame needs three things to grow exponentially in our lives: secrecy, silence and judgement. When I think…..is there something about me, that if other people see it or know it, that I won't be worthy of connection" – Brene Brown
Brene Brown is one of my favourite speakers – her work on vulnerability, shame and courage continues to resonate with me (I highly recommend checking out her TED.com talks).
For a long time my PCOS symptoms were something I tried to hide and was ashamed of – in particular my hair growth, infertility and weight gain. I would never talk about them, even to my closest friends and family and it stopped me from meeting new people or forming new relationships. I would constantly judge myself as less of a woman.
By talking about it (slowly and taking baby steps) and letting myself be seen over time I've seen a big change to how I see and value myself. 
2. The Language I use
How I talk to myself is an ongoing journey for me and one I'm continuing to learn.
I've realised that how I talk to myself is critical. A good friend once said to me "talk to yourself like you would to someone you love". A vision of my 7 year old niece came to mind – how would I talk to her if she'd made a mistake (especially if she was trying something new).
The way I was talking to myself was berating "you idiot – what did you do/say that for?" whereas the reaction to my niece would have been encouragement for trying something new. I now stop myself if I am judging or berating myself – and ask – how would I talk to Cate if she'd done the same thing?
I've found it can be a very powerful tool! 
3. My Support network
"The two most powerful words when we're in struggle? ME TOO"… Brene Brown
By opening myself up and connecting, I have created an awesome support network around me. Core friends that I can laugh with, get angry with and in the end will just listen when I need a rant or a few giggles. To talk about it has lessened my shame and made all of the difference.
By being open about my PCOS I also find that I am connecting to a whole new set of friends and women in a similar struggle. Every time I connect and we talk of our struggles, I heal a little more myself.
4. Vulnerability 
I now truly believe that my imperfections and what makes me vulnerable are what makes me beautiful.
We all live in a vulnerable world and my way to deal with it was through closing myself off and through emotional eating – numbing myself.
My problem was I couldn't numb the hard feelings without also numbing the good. I ended up numbing joy, gratitude, happiness and then was miserable and feeling vulnerable and then numbing again. It became a dangerous cycle.
By accepting and sitting with my feelings – whether I am angry, sad or fearful and not going straight to the fridge has allowed me to learn so much more about myself.
5. Meditation
We all seem to lead really busy lives nowadays. I've always been a "technical/left brained" person – I love to read, learn and work in a job where my brain always seems to be "on".
When I first started meditation my thoughts kept running around in my head and I doubted that this would ever change.
Having spent some time now meditating every day (often this is just stopping and breathing for a few minutes before going on to my next task) I now can clear my mind and stop and breathe.
I now find it such a relief to give my mind and body a break.
Through the above techniques and a new way of eating I'm now 25kgs lighter in 4 months and I have done it with ease and grace. I can't tell you what a relief that it is after over 20 years of struggle."
To follow the ups and downs of Danielle's journey to "Eat My Way Free of PCOS", head to her blog at www.pcosaware.com and hit like on her facebook page at www.facebook/pcosawareblog
You can also grab your FREE special reports, 'Your Complete Guide To PCOS Hair' and 'Your Complete Guide To PCOS Skin', when you visit www.pcosaware.com
What great sentiments and gifts!
From PCOS to perfect health, with love,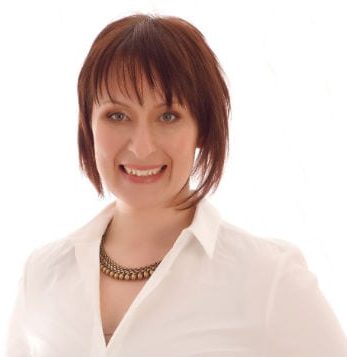 Dr. Rebecca Harwin
The PCOS Expert
Chiropractor & Bestselling Author of
Conquer Your PCOS Naturally
www.ConquerYourPCOSNaturally.com
---
Love to pin? Share the love…