---
PCOS and pregnancy… Just a dream? Absolutely not!
I love sharing stories of women, just like you. Women who have shown, proven without a shadow of a doubt, that PCOS and pregnancy can go together. You can turn infertility on its head and win this challenge. Fiona is one incredible woman, with an amazing story. I asked if she'd be happy to share her journey with you – my wonderful PCOS community. And she graciously and excitedly accepted.
Here it is…
"In 2004 I married my husband John & I had been on the contraceptive needle for just under 12 mths. We decided to let nature take its course with having kids as I was 26 & he was nearly 30. We moved to Brisbane from Sydney for work & I went to see a Doctor as I had not had a regular period for the last 8 mths.
My cycle was regular previously though a little longer than normal & things felt out of sync. I had a series of minor tests and nothing seemed abnormal so we were advised to wait another few months and hopefully my cycle would return as it may have been due to the contraceptive I was previously on. Things did get back to normal within the next 6 months.
2 years later I went to see my Dr again about not getting pregnant after trying for 2 years naturally. We discovered after 6 mths that I didn't always ovulate & when I did it was predominantly from one side, later in a cycle than normal & that my cycle went for usually 32-34 days not 28. We were given a referral to see a specialist, but after waiting 2 years to get in and I was able to get access to private health cheaper than retail we choose a specialist recommended to us in 2007.
With our new Dr & Specialist (QFG) we had more tests & some quite painful also confirming that I had PCOS. We had to wait for 12 months before our cover came into effect so we tried a few IUI's first with Clomid and a break of 3 mths between each.
None worked and my husband was also told that we might also need ICSI with IVF when we were financial to start IVF.
In 2008 we did our first IVF cycle that was a poor result as I was hyper-stimulated. We had 32 eggs (normally they aim for around 12). 3 implants were done. On the 3rd I was pregnant but it failed at 5 weeks.
We couldn't afford to do another cycle anytime soon so we tried Clomid & Metformin over a 6-month time frame. I had an anxiety attack believed due to the Clomid & the side effects of the Metformin were unbearable as it gave me chronic diarrhoea severe stomach cramps & migraines.
I changed Doctor's as I was not impressed by the response I got when I told his receptionist of my reactions to the meds and my Specialist never rang me back as promised.
A friend told me about an app I could use on my iTouch call iPeriod, to keep an eye on my cycle & see when I was most likely ovulating to do things naturally whenever we were short on funds. To this day I use it and recommend it to anyone who wants to keep an eye on their cycle for any reason.
At the new specialist (Brisbane Fertility) we tried to do another series of IUI's using injections instead but I kept ovulating before scheduled insemination. We were now completely dry of extra funds to do anything else even the recommended laparoscopy.
I had left the health insurance field and our income dropped by nearly 10 grand, so for the next 18 months, we concentrated on improving my health.
I lost some weight doing Weight Watchers and still stick to their general program to maintain that loss though I was still over 100 kgs.
In 2011 I suffered a head injury and continued to have ongoing issues as a result (No sense of smell, headaches, earaches, dizziness). But 1 positive was that I lost 10 kgs. I still struggle to maintain that loss but I am focused enough to ensure I don't tip over the 100 kg again.
A friend told us about a new IVF group (The Fertility Centre – Springwood) that were doing the service at less than half the normal cost & outpatient, so I went to my GP & asked for a referral. We tried twice over 6 months with them to get pregnant to no avail, but the level of stress was less & more promising. This was our new professional assistance to becoming a family.
I then suffered a lower back injury at work which resulted in requiring surgery. Luckily it has taken the pain away but I still get nerve pain twinges occasionally and it has left me with a 10% permanent impairment. With being sick more often as a result of my head injury and time off due to back issues, we didn't have money again to try another cycle with TFC, so I started reading every book I could find about PCOS and how to treat, live and defeat it.
That's when I bought your book, Conquer Your PCOS Naturally. I changed some of the things I ate, ate less of some things and increased exercise (though not as much as I should) where I felt I could without further injury or illness. This also helped to maintain the weight loss I had achieved.
We were just crossing our fingers following recommendations and doing things natural but with no locked in program to hopefully get pregnant.
This year I had decided I was going back to study and get my Diploma of Nursing. After Stage 1 things were looking promising that I'd finish and have a better career within the next 18 mths. Then over the break, I started feeling sick every few days and my app started telling me my cycle was overdue.
As this was not a new occurrence I put it aside and told myself I'd give it a week and then do a test as it wasn't uncommon to get my hopes up.
Another 2 weeks passed and I was obviously distracted but then I finish a shift at work feeling nauseous, I come home & vomit but have diarrhoea also, so go to the doctor thinking it's gastro as it went through everyone at work. I get a cert and it doesn't seem like gastro after a couple days.
I tell myself on the Monday night I'll do a test tomorrow and it's exactly what I do. It seems like forever so I get my clothes and start making breakfast.
I finally look & it's positive "Your f…ing kidding me………… seriously………… no seriously" I tell myself.
I finish getting dressed eat my breakfast and say "Now what?"
I take a photo and send it to my husband asking "Do I do another or just go to the doctor?"
I start arranging things I need to do for the day and need to ring John & ask him where something is anyway. I ring and ask, then ask if he got my text. "No, do you want me to read it now?" "Um, yes please!"
He suggested checking, so I do my rounds, visit the chemist & test again as soon as I get home. It's a clear blue and says 3+ weeks!, so I gather up my things again and head straight to the doctor.
Yes I'm pregnant, but he thinks I'm already 7 wks.
I explain that isn't possible according to my last cycle, but he doesn't take it in and tells me from here on at this clinic pregnant patients see the female doctors, so I arrange to see one when next available. I'm booked for an 8 wk scan and go when I think I'm 8 wks.
I was right and I don't like my doctors available so I've now got a new GP I'm happy with & know if they're not available I can see anyone else available, plus they do all anti/postnatal appointments and can see me all through my pregnancy if I don't need to see a specialist all through.
I'm relieved and a bit chuffed as my 8 wk scan shows my calculations were right and the other GP was wrong.
I'm now about 9 wks and on track to have my next scan in 4 wks & we can tell everyone our exciting news.
I hope this can help others.
Fiona"
Whether you are trying to conceive or thinking about it for when the time comes, I want you to know for many women with this common syndrome, fertility is very possible. And I can't wait to help show you how!
From PCOS to perfect health, with love,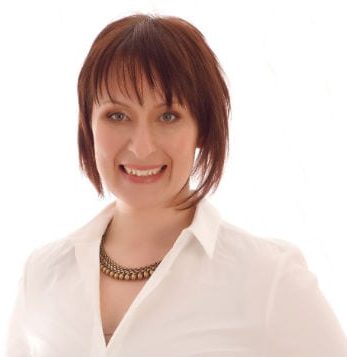 Dr. Rebecca Harwin
The PCOS Expert
Chiropractor & Bestselling Author of
Conquer Your PCOS Naturally
www.ConquerYourPCOSNaturally.com
P.S. I have helped many women with Polycystic Ovary Syndrome to become Mums to healthy babies. It's one of my passions and I'd love to help you too! I've created my unique, evidence-based PCOS pregnancy program, 'From PCOS To Pregnancy', specifically for women like you.
This specialised program includes everything you need; from the 2 little known PCOS fertility killers to expert interviews, cycle tracking and what it actually means, and how to interpret the results, plus daily emails from yours truly. To find out more and grab your life-changing copy, go to 'From PCOS To Pregnancy Program' now.
---
Love to pin? Share the love…