---
Have you just been diagnosed with PCOS?
Maybe you're going through one (or many) of the challenges that this common syndrome can bring?
When it feels that your whole life is coming apart at the seams, you might wonder if you will ever be happy again. I know, I've been there, too. One of the best ways to get through stressful times like this is to begin a mindfulness practice.
Mindfulness is simply the practice of paying attention to this moment purposefully and with kindness and curiosity. When we can get bogged down and long for the past or stress about the future, we are focused on events other than those in the here and now. Practicing mindfulness keeps us grounded in the present moment so that we can learn greater happiness, gratefulness, and peace.
Does that sound too good to be true? Even impossible?
People have been practicing mindfulness for thousands of years to bring a sense of peace and purpose to their lives and reduce the stress that weighs heavily on their shoulders and mind. And you can join their ranks by starting right now, this moment.
Note: Why does this matter? With stress comes a likely aggravation of PCOS signs and symptoms.
Take a minute, literally, to close your eyes and focus on your breath. Feel the sensations in your body. Notice: Is your breathing is rapid or slow, shallow or deep. All you need to do is notice – there's no need to do anything about what you discover. For example, if you notice that your shoulders are pulled up close to your ears, you don't need to do anything about that (though you may automatically change your posture). You simply notice.
Jon Kabet-Zinn, the founder of Mindfulness-Based Stress Reduction says, "If you are breathing, there's more right with you than wrong with you."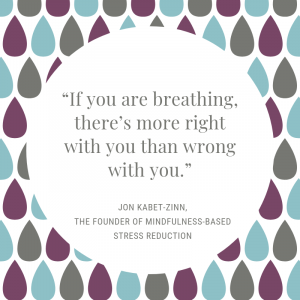 Practicing mindfulness is simple, but it's not easy. This is true because we are a society hooked on constant improvement. Always striving to do better, to be better. A quick glance at the thousands of available self-help books and a brief dive into our cyber world shows we lack the ability to just be. Yet, just being is an important part of our design. It is like our reset, heal and recover button. Mindfulness meditation gives you the chance to push it.
How do you start a mindfulness practice?
Well, if you closed your eyes and did the one-minute exercise recommended above, you've already started. The aim in mindfulness is to bring your mind back, repeatedly, to the present moment and just experience it without judgment. You simply recognise what is happening in your environment at this moment, and just be with it as it is, without trying to change it.
You may wonder how this practice could possibly make life easier right now when you feel like you will never get past the worry, fear and grief of what you've lost. And PCOS throws up so many worries and losses…
Fear of not being able to become a Mum and a future life without children. There is much grief that comes with that.
The perceived loss of your life with self-confidence and the concerns that you'll experience a future alone and remain unloved…
That you aren't womanly…
That you don't fit the society's ideals…
While these are either likely or completely untrue, they are very real and as such impact of your physical, emotional, mental and spiritual health.
But back to mindfulness…
There are much hope and benefit to this practice. And as you allow yourself to be, your stress will reduce, your mind will expand and coping becomes infinitely easier.
There is a list of ways practicing mindfulness can help you each and every day, regardless of what PCOS challenges you are going through.
Accepting what is
Whether you like it or not, you need to accept how your life is right now. If you continue to struggle against it, it will only increase the pain. Acceptance is the foundation. Throughout this site you will find ways to improve your health, even transform your PCOS, and acceptance is the place to begin. Mindfulness meditation for PCOS helps us learn to be with what is, right now, and in this moment so that we can accept it and move on.
Letting go of the past
Much of the suffering we experience in life comes from looking back at the past. We long to get back what we had. Or we regret the choices we made. Neither of these perspectives aids our future because the past no longer exists. There is nothing we can do to change the actual events, other than altering the way we see it and feel about it, and what we learn from it. Instead, we can practice living mindfully, which means focusing our attention on the present moment so that we can enjoy the pleasures in life.
Experience gratitude
You may have read that and wondered what in the world you had to be grateful for right now. Your life is in shambles and you don't even know where to start to put it back together. But even in the direst circumstances, there are things to be grateful for. It's a beautiful, sunny day. You can hear the birds singing. Today has been easier than yesterday. You enjoyed the food you had today. You have a comfortable, safe place to sleep tonight. You are breathing.
There are wonderful journals that can help us remain focused on gratitude. When we live in the present moment, we start to change our brain. To create the pathways that enhance our health. Over time, and with regular practice, we begin to see the wonderful, delightful things we have in our lives, instead of looking to the future and worrying about what we might or might not have then.
Stay out of thinking mode
Right now, the last thing we need to do is think. Thinking tends to complicate everything and we need some time apart from our analytical brain. Inevitably, when we think, we begin living in the past or in the future instead of the present moment. After we have accepted and made peace with the pain and grief, there will be time to think and plan for what we need to do next to rebuild our life. But for now, mindfulness offers us a way to be, so that we can accept and let go of what was or could be.
Lowers stress and improves well-being
It stands to reason that when we aren't thinking about the past or worrying about the future, we feel less stressed. Research studies have proven over and over that practicing mindfulness lowers stress and improves our outlook on life.
Develop self-compassion
I'm looking at you! As women with PCOS, this is one aspect we need to nurture. We so easily blame and judge ourselves and feel less than. Practicing mindfulness meditation encourages us to be kinder and gentler with ourselves and to embrace our supposed imperfections because we begin to understand that perfection is a construct, not our reality.
Let go of fear
Fear comes from not knowing. Not knowing what will happen next or in the more distant future. But do we ever truly know what will happen next? Of course not. We know what our goals are for the future. We make plans and dream about what life will be like. But no-one ever really knows what will happen next.
Develop resilience
Once we accept that we can embrace the here and now, we begin to develop resilience in the face of adversity. Mindfulness teaches us that all things are impermanent. This has incredible benefits: All things rise and fall. Things may feel that they are 'falling apart' now, as they may do at some point in the future. But the flux of life gives us hope that what we are experiencing is normal (and in the sense of PCOS, flux is normal!) and can be experienced safely and peacefully. Interestingly, with regular mindfulness meditation your perception of 'falling apart' will, too, change.
Let go of your attachment to absolute expectations
One of the biggest reasons for our unhappiness is due to the expectations we have. We expect our lives to play out in a specific way and when it doesn't? It can be downright difficult! Letting go of these attachments allows us the space to be happier in the here and now, no matter our external environment.
Begin responding, not reacting
Women with PCOS have been shown to have greater "difficulty coping with stress, more anger symptoms, were significantly more likely to withhold feelings of anger and had more quality of life problems related to the symptoms of their condition."
And anger is usually a reaction, rather than a response. It's exhausting and unhelpful. Yet through practicing mindfulness, we become aware of a choice: Reaction versus response. This is extremely liberating and empowering and helps to lower anger and stress.
Practicing mindfulness offers many benefits during both challenging and regular times. It requires only our presence and practice. And the changes could just transform your life.
From PCOS to perfect health, with love,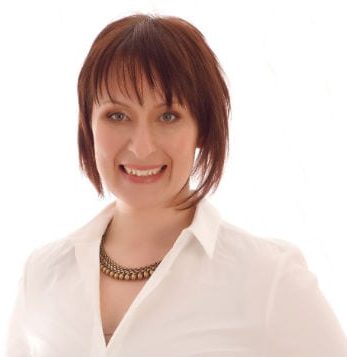 Dr. Rebecca Harwin
The PCOS Expert
Chiropractor & Bestselling Author of
Conquer Your PCOS Naturally
www.ConquerYourPCOSNaturally.com
---
Love to pin? Share the love…