Are you curious about depression and PCOS?
Are you tired, fed up, or irritable?
Is your sleep altered, or is your mood flat?
Do you have a formal diagnosis of depression?
Those with PCOS are susceptible to developing mental health issues, specifically depression. According to studies, around 40% of people diagnosed with PCOS also experience symptoms of depression.
So, let's dig a little deeper into what depression is, its connection with PCOS, and natural treatments to alleviate the symptoms. 
What is Depression?
We all know what it's like to be down sometimes. To feel blue or downhearted. However, depression, or major depressive disorder, is a serious mental health condition that can majorly impact day-to-day function and quality of life.
Diagnosis of Major Depressive Disorder
Certain criteria need to be met before major depressive disorder is diagnosed. Symptoms must last at least two weeks before a diagnosis can be made. The more symptoms you have, the more likely you are to be experiencing depression. Symptoms may include the following:
Anhedonia

, or the inability to feel pleasure
Teariness
Chronic feelings of unhappiness or hopelessness

Changes in appetite

, which may lead to weight gain or loss
Fatigue

Psychomotor retardation

, which refers to slowed speech or physical movements
Feeling agitated
Low self-esteem or guilt
Difficulty

concentrating

Thoughts of death or suicide
If you experience some of these symptoms, seek help from a qualified healthcare professional. You don't have to deal with depression on your own. Hope and help are available.
But what does this have to do with PCOS?
What is the link between depression and PCOS?
Even does Polycystic Ovary Syndrome causes depression?
The Link Between Depression and PCOS
There are various potential links between depression and PCOS, from neurotransmitter and hormonal underpinnings to the body image issues that come with our suffocating social conditioning. We can think of these as PCOS depression symptoms, but in reality, they are symptoms of depression that may be associated with Polycystic Ovary Syndrome.
That said, let's start with the latter…
Poor Body Image
Your body is incredible! Ever healing, constantly working to keep you alive and safe as best it can in this often toxic world. Your physicality allows you to move, create, and experience our world and your life.

However, PCOS can bring many changes that alter how your body works and looks and how it is perceived.
In PCOS, insulin resistance, for example, may lead to obesity. Higher levels of androgens, or "male" hormones, can cause excess body hair, cystic acne, and other skin problems and changes in our appearance. This can contribute to depression.
It's no surprise that research shows this can change how we "see" ourselves. The study, Body image distress increased in women with PCOS and mediates depression and anxiety, found that PCOS was associated with a significant increase in body image distress.
The authors said that:
The association between PCOS/control status and higher anxiety and depression scores was completely mediated by the appearance evaluation and body areas satisfaction subscales and partially mediated by overweight preoccupation, appearance orientation and self-classified weight.

Read that again…
The increased depression in PCOS was "completely mediated" by how someone felt about their appearance and "partially mediated" by how much they thought about their weight and appearance.
This is a fundamental finding. One that may be crucial to finding relief from depression. In essence, we must learn to accept and love ourselves just as we are. Yes, we can (and I would argue, should) continue to focus on a healthy lifestyle. But, we need to embrace ourselves and self-compassion and set down harsh judgments.
The Challenges of Infertility
Infertility can lead to depression in the absence of PCOS. For those with Polycystic Ovary Syndrome, trouble conceiving and maintaining a pregnancy appears to add an additional layer to depression on top of this already heavy load.
An Increased Level of Psychological Stress
While you might think that stress in PCOS would be solely related to weight or infertility in PCOS, the roots are deeper.
Yes, as we saw above, research has found that the way we feel we look mediates depression. But even when we consider this — when we eliminate weight and infertility as factors — those with Polycystic Ovary Syndrome still experience a higher level of perceived stress… And, yes, depression.
As a study published in Psychological Medicine said, "Stress may play a role in the association between PCOS, depression…"
For many reasons, it's important that we learn how to soothe stress. In our article, 9 Tips To Reduce Stress Levels And Keep PCOS Symptoms Controlled, you'll discover several ways.
The Neurotransmitter and Hormonal Underpinnings of Depression in PCOS
Neurotransmitters — including "the happy hormone," serotonin, "the reward hormone," dopamine, plus gamma-aminobutyric acid (GABA) and acetylcholine (Ach) — are reduced in PCOS.
As an article published in the journal Frontiers of Psychiatry, these and other neurotransmitter abnormalities could play a  role in "the pathophysiology of depression in PCOS."
In addition, hormonal changes, including insulin resistance, high levels of "male hormones (hyperandrogenism), and inflammation appear likely to play a role.
That's a lot!
So, how can you address depression and PCOS?
There are a range of approaches to trial…
Research-based Natural Treatments for Depression and PCOS
There are many ways to find solace and support, naturally. 
Some symptoms and underlying processes in PCOS are intertwined with depression. As such, it's important to treat PCOS-related depression in a holistic approach. Natural interventions can treat physical symptoms and, in doing so, may improve psychological-related symptoms and vice versa.
Seek Professional Counselling
Seek help from a trained mental health professional. You can schedule an appointment with a counsellor, psychiatrist, or psychologist. They can help you deal with any feelings regarding your diagnosis.
They can also teach you how to deal with negative thoughts and cope if you feel overwhelmed. 
Psychological interventions that may help you cope with the unwanted effects of PCOS include cognitive behavioural therapy (CBT), mindfulness-based relaxation techniques, and acceptance and commitment therapy. These therapies aim to improve self-esteem and cope with stress.
Behavioural interventions can support health-related choices that will help improve one's mental health and may help ease other symptoms caused by PCOS.
Nourish Your Body With Great Nutrition
Nutrition plays a major role in the treatment of PCOS. Eating well may also have a significant effect on alleviating symptoms of depression.
Focus on enjoying whole foods; limit any processed foods. Keep it fresh — fruit, vegetables, nuts, seeds, and healthy protein sources. If you're a meat eater, opt for unprocessed meat.
You'll find many articles about nutrition on this site. Head to the top left of this site and enter your search term under the "LOOKING FOR SOMETHING?" title.
Stay Hydrated
Our bodies need ample water to function well. But did you know that a reduced water intake might be related to depression?
Research published in the World Journal of Psychiatry investigated the rates of depression in those who drank less than two glasses per day compared to those who drank two to five glasses per day and those who consumed more than five daily glasses.
The results showed an inverse association between plain water consumption and common psychological disorders, including depression. In short, drinking more water was protective.
When choosing what to drink, opt for plain water. If you can't tolerate simple H2O, make your water a little less boring. Add some lemon wedges and mint leaves, or spice it up with fruit infusions. Just make sure you are keeping your body properly hydrated.
Supplement with Science-backed Nutrients
Natural supplements, such as vitamins and minerals, may improve symptoms of PCOS and depression. Omega-3 fatty acids, vitamin B complex, zinc, magnesium, and probiotics are included.
Omega-3 Fatty Acids
Omega-3 fatty acids have been known to have clinical benefits for PCOS and depression. This could be because it tackles the underlying PCOS issues mentioned above that contribute to depression. It could also be because these wonderful nutrients also directly aid depression.
For example…
A study published in the journal Frontiers in Nutrition investigated links between omega-3 fatty acids intake and its levels in the blood and insulin resistance and body composition.
The authors found that higher dietary and serum omega-3 fatty acids (especially docosapentaenoic acid (DPA) and docosahexaenoic acid (DHA)) "might have beneficial effects on metabolic parameters and body composition among PCOS patients."
Omega-3 fatty acids have also been shown to reduce testosterone, a hormone linked with erratic periods, excessive hair growth, and acne.
In short, a healthy omega-3 intake has been shown to improve insulin resistance and "male" hormone balance and reduce weight. Each of these factors may contribute to depression in those with PCOS.
Omega-3 fatty acids have also been shown to provide benefits in depression directly. The study Efficacy of omega-3 PUFAs in depression: A meta-analysis concluded that omega-3 fatty acids equal to or above one gram per day (with 60% eicosapentaenoic acid (EPA)) "would have beneficial effects on depression."
The following foods are high in omega-3 fatty acids:
cod liver oil
salmon
oysters
chia seeds
walnuts
soybeans
flaxseed
The Vitamin B Family
The vitamin B family is important for healthy nervous system function, including the neurotransmitters — or nerve messengers.
This group of nutrients also appears to support fertility. In fact, one article noted, "There is biological plausibility and some evidence that B vitamin supplementation may be even more important for improving reproductive health outcomes in PCOS women." As infertility can contribute to depression, this may be important.
B vitamin supplementation can soothe stress. These nutrients may also directly help with depression. Looking at folate (B9) and vitamin B12 in particular, a healthy dietary intake reduces depression risk, and an unhealthy dietary intake increases depression.
So, how can you increase your intake?
leafy green vegetables
peas
nuts
dairy
free range eggs
The Mineral Zinc
The mineral zinc can affect PCOS and depression in several ways. Let's take a look…
Scalp hair loss is not uncommon in PCOS. Unsurprisingly, this can impact how you feel about yourself and how feminine, sexy, and attractive you feel. Hair loss can negatively affect self-esteem and may cause or contribute to mental illnesses, including depression. Yet, there may be an unexpected source of hope.
Research published in the journal Biological Trace Element Research compared two groups with PCOS. The first was supplemented with 220 mg zinc sulphate (containing 50 mg zinc). The second was given a placebo (a sugar pill). After eight weeks, alopecia (hair loss) significantly decreased in the supplemented group, at 41.7% compared to 12.5%.
This research found that supplemental zinc also reduced hirsutism (excess hair growth). Yes, another factor that may contribute to depression in PCOS.
Zinc has direct effects on depression too. Compared to those without depression, those with depression tend to have reduced zinc levels in their blood. The lower the zinc level, the worse the symptoms. And, yes, increasing zinc intake improves mood.
So, the low zinc levels found in PCOS appear to be important. One study concluded, "Circulating zinc levels in women with PCOS were significantly lower than those in healthy controls."
Needless to say, ensuring you consume sufficient zinc is key. 
Foods rich in zinc include:
oats
seeds
nuts
shellfish, including oysters and crab
meat
Magnesium, the Great Relaxer
The mineral magnesium is dubbed "the great relaxer" in the natural health field. Its name is perfect! Including its ability to quell the ravages of depression. As a study published in PLoS One found.
The authors investigated 126 people who were experiencing symptoms of mild to moderate depression. One group was given supplemental elemental magnesium at a dose of 248 mg per day. The other group received a placebo. The study ran for six weeks. However, positive results were noticed in the treatment group in as little as two weeks.
The authors concluded, "Magnesium is effective for mild-to-moderate depression in adults. It works quickly and is well tolerated without the need for close monitoring for toxicity."
This ties into Polycystic Ovary Syndrome. Lower magnesium levels in the blood are associated with higher testosterone levels in PCOS. Higher testosterone can cause unwanted, embarrassing symptoms. It's also linked with depression…
Research has shown that depression in pubertal girls correlates accurately with higher testosterone levels rather than the assumed moodiness of this transitional time. It may be involved in the development of baby blues. And high levels can trigger aggression and, consequently, depression.
Foods rich in magnesium include:
fruits like apples and banana
vegetables like broccoli and carrot
leafy greens, including spinach
brown rice
beans, including black beans, edamame, and kidney beans
nuts, including almonds and cashews
seeds, including avocado, chia, and pumpkin seeds
Probiotics
This might seem like an unexpected addition. What could probiotics possibly have to do with depression?
Inflammation is linked to depression. It's now considered an inflammatory disease by many. Yes, just like PCOS.
Wonderfully, probiotics have been shown to regulate inflammation in PCOS. In particular, supplementation with Lactobacillus appears to modulate inflammation in PCOS.
This conclusion is supported by a study published in the Journal of Ovarian Research. The authors found that when vitamin D and probiotics were given to people with PCOS for 12 weeks, there were "beneficial effects on mental health parameters, serum total testosterone, hirsutism, hs-CRP (a marker of inflammation)."
Again, we can see that many factors may contribute to PCOS and depression, and the right supplement or supplements can have a profoundly positive effect.
Tasty foods that contain probiotics include:
kefir
kombucha
miso
pickles
sauerkraut
tempeh
yoghurt
Prioritise Your Sleep
We all know how awful we feel when we've spent several nights not sleeping. But when we experience a sleep disorder, the impact grows. Those with PCOS and depression face a greater risk of sleep disturbances.
But this relationship runs both ways. Insomnia is linked with an elevated risk of depression.
So, a focus on good quality sleeping is sensible.
There are ways to improve both your quantity and your quality of sleep. In our article
PCOS And Can't Sleep? Why Sleep Matters & How To Improve Yours, we explore:
— the different sleep cycles
— the symptoms that poor sleep can cause
— how to identify if you might have a sleep disorder, and
— 10 good sleep habits to adopt
The importance of sleep is often underrated and overlooked. Yet, sufficient slumber is required for a healthy, happy life.
Exercise Regularly
Exercise is good for both the body and the mind. You've probably felt how good this can feel when you've experienced the post-exercise glow of an endorphin hit. But more than a short-term kick, long-term physical activity can improve depressive symptoms.
Ideally, exercise for 30 minutes daily to reap the maximum benefits. Exercises recommended to manage PCOS symptoms include:
Walking
Strength training
Swimming or aqua aerobics
Sports, such as golf or tennis
Yoga
But don't force yourself to stick to a specific program. Stay active by engaging in activities you enjoy. Exercise should be sustainable and part of your healthy lifestyle. A fun part at that.
The Depression and PCOS Takeaway
As you can see, the symptoms of PCOS and depression are intertwined. This means that often what aids PCOS will help depression and vice versa.
A well-balanced, healthy lifestyle, counselling, and supplementation, where appropriate, can kill two birds with one stone; they can treat both PCOS and depression simultaneously. That's a win-win in my book!
From PCOS to perfect health, with love,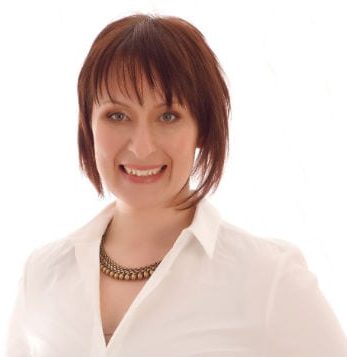 Dr. Rebecca Harwin
The PCOS Expert
Chiropractor & Bestselling Author of
Conquer Your PCOS Naturally
www.ConquerYourPCOSNaturally.com
---
Love to pin? Share the love…