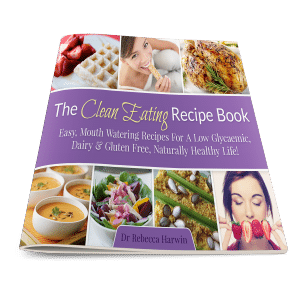 Great to see you taking action! That's how you improve your wellbeing!
Enjoy the yummy, easy to create, nutrient packed recipes in your copy of my healthy recipe book.
Plus, on page 76 you'll discover my secret weapon against damaging nutrient deficiencies (and it is SUPER simple and incredibly powerful!)
To download your copy of this PCOS diet that is gluten free, dairy free, artificial additive free and low glycemic load …made simple… recipe book, just hit one of the links below now.
The powerpoint version can be downloaded right now by clicking here – Clean Eating Recipe Book PPTX
 Or downloaded from this link – The Clean Eating Recipe Book
I look forward to hearing about your culinary creations, and the positive impacts they have on your health.
From PCOS to perfect health, with love,
Dr. Rebecca Harwin
The PCOS Expert
Nutritionist, Author, Chiropractor
www.ConquerYourPCOSNaturally.com