Do you have Polycystic Ovary Syndrome (PCOS) and experience bloating?
Could these two health challenges be linked?
Some years ago, I said that my expertise and experience had led me to conclude that the gut is inextricably linked to PCOS and must be a crucial part of treatment. That opinion has not changed.
So, when the study, Characterization of polycystic ovary syndrome among Flo app users around the world, found that "Bloating was the most frequently reported symptom among PCOS-positive women and appeared to be the main predictor of PCOS in our model," I wasn't wholly surprised. 
But the impact of the gut — particularly in Polycystic Ovary Syndrome — has been broadly overlooked.
Let's look at PCOS-related bloating: what bloating is, why it occurs, and evidence-based ways to find relief.
Bloating: What is it?
Bloating is defined as "a sensation of increased abdominal pressure that may or may not be accompanied by visible abdominal distention." There's a feeling of pressure in the tummy area; half the time, an increased girth size can be seen.
(Girth… that's one of those horrible words that can send a shiver down the spine! But it simply means the measurement around your middle, your waist)
Sometimes, bloating can be caused by a known condition. Constipation, irritable bowel syndrome, lactose intolerance, or too many gut bugs growing in the small intestine. Sometimes, the cause can't be (or isn't) pinned down. 
Bloating and PCOS: How likely are they to occur together?
If we return to the study above, we find some staggering facts.
The researchers investigated symptoms in five countries: USA, UK, Australia, India, and the Philippines. They found that bloating was the most frequently reported symptom in four of these five countries. Yes, ahead of facial hair, irregular cycles, and balding.
Of those with PCOS, 73.8% of the US, 78.6% of the UK, 80.4% of Australians, and 75.4% of Filipinos reported bloating.
In fact, the study noted that bloating was one of the most prevalent predictors of PCOS! Yes, bloating is so common in this syndrome that it can be considered a sign that someone may have PCOS.
The Causes of Bloating in PCOS
Those with PCOS are more likely to experience gastrointestinal issues, including bloating, than those without.
I've long believed there is a link between Polycystic Ovary Syndrome and increased intestinal permeability. In my article, There are Strong Links Between Gut Health and PCOS: Find Out How I share how and why.
Insulin resistance, metabolic syndrome, and elevated inflammation — all common in PCOS — link to the gut. Hypothyroidism — more common in PCOS — can trigger gut problems, including bloating. 
The experience of bloating is more complex than it may first seem. "It's just too much gas, right?" Not quite.
Different factors are involved. The microorganisms living in our gut, intestinal transit time (the time it takes for food to move from the mouth and out of the anus), the production and movement of gas through the bowel, and how sensitive the gut is. All these factors play a role in creating the symptoms we experience, including bloating.
Natural, Evidence-Based Ways to Find Relief from PCOS Bloating
While bloating is considered a benign condition, it can be so uncomfortable that it reduces the quality of one's life. This may cause psychosocial distress: "an emotional state or mood characterised by the feeling of loneliness, sadness, anxiety, suicidal ideation, and self-consciousness."
Fortunately, specific natural remedies supported by evidence can help alleviate PCOS bloating and promote digestive health.
Low-FODMAP Diet
FODMAP is short for (ready for it!) fermentable oligosaccharides, disaccharides, monosaccharides and polyols. They are types of naturally occurring sugars that the small intestine struggles to absorb.
Following a low-FODMAP diet — a diet low in these specific sugars — has proven effective in managing bloating for many people, including those with functional gastrointestinal disorders, including IBS.
Peppermint oil
Peppermint oil capsules (Mentha piperita) have shown promise in reducing abdominal bloating.
A study published in Digestive Diseases and Sciences enrolled 72 participants in a four-week, randomized, double-blind, placebo-controlled clinical trial. Yes, it is considered the gold standard in research. Thirty-five received peppermint oil supplements. Thirty-seven received a placebo, the colloquial inactive sugar pill.
At the end of the study, the people who took the peppermint oil were significantly more likely to experience a reduction in specific gut symptoms. These symptoms included abdominal discomfort or pain, distension, pain during bowel motions, urgency (the need to go to the toilet now!) and, yes, abdominal bloating.
With its anti-inflammatory, antioxidant, and painkilling properties, peppermint oil may help relax the intestines' muscles and reduce the heightened sensitivity that may trigger the sensation of bloating.
Ginger
Ginger has been traditionally used to soothe digestive discomfort for aeons. Stretching from ancient Ayurvedic and Chinese Medicine histories until today. 
Its anti-inflammatory, anti-hyperglycemic (ability to lower high blood sugar), anti-emetic (ant-nausea and vomiting) actions, and potent antioxidant properties may benefit bloating. 
Ginger can be sipped in a tea, added to meals, and taken as a supplement.
Gentle physical activity
Physical activity gets your body moving, including the gut.  
A study published in Gastroenterology and Hepatology from Bed to Bench investigated whether exercise could relieve gastrointestinal symptoms. They placed 94 participants into one of two groups: the treatment group, who walked 10-15 minutes after each meal, and the control group, who were given medicines designed to enhance gut motility. 
At the end of the study, the researchers found that walking relieves bloating. Yes, walking, not gym workouts or boot camp regimes. 
The Japanese herbal formula, Rikkunshito
Made from extracted granules that contain a blend of eight herbs in fixed proportions, Rikkunshito — taken orally — has been shown to soothe bloating.
According to an article published in Frontiers in Psychiatry, the mix contains Pinelliae tuber (18.6%), Ginseng radix (18.6%), Atractylodis lanceae rhizoma (18.6%), Hoelen (18.6%), Aurantii nobilis pericarpium (9.3%), Zizyphi fructus (9.3%), Glycyrrhizae radix (4.7%), and Zingiberis rhizoma (2.3%).
As well as benefits for bloating, this oral blend eased fullness after eating, feeling full too early, and anxiety. This traditional formulation could benefit more than tummy troubles alone because bloating and PCOS, and feeling anxious are common bedfellows.

Restore healthy gut bug balance
 Finding relief is important; healing the underlying issue is vital. But what is the underlying problem of bloating? That's a great question!
 Sometimes there is a definitive cause, and bloating happens secondary to it. Sometimes, we aren't 100% sure.
 That said, it appears likely that gut bug balance plays an essential, if not causative, role.
 Find out more in this article, There are strong links between gut health and PCOS: find out how. 
(
Particular) probiotics
Probiotics are live microorganisms consumed to benefit the body. They're widely recommended for bloating, which makes sense, given the involvement of the gut microbiome. But do they actually help?
 Several species have been shown to relieve bloating. These include the tongue-twisters, Bifidobacterium infantis 35624, and Bifidobacterium lactis DN-173 010.
The PCOS and bloating takeaway
There is a connection between bloating and PCOS. Bloating appears to be one of the most prevalent symptoms of Polycystic Ovary Syndrome. But if you experience both, you don't need me to tell you this. You already know!
Luckily, evidence-based ways to find relief include following a low-FODMAP diet, using peppermint oil, trying ginger, engaging in gentle physical activity like walking after meals, and considering the Japanese herbal formula Rikkunshito.
Restoring a healthy gut microbiome balance and exploring specific probiotics may also play a key role in alleviating bloating.
 By focusing on the gut and its connection to PCOS, you may find relief from bloating. And improve your other signs and symptoms. 
 Take heart; there are promising paths to find relief and healing!
From PCOS to perfect health, with love,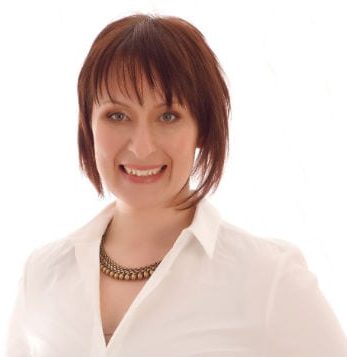 Dr. Rebecca Harwin
The PCOS Expert
Chiropractor & Bestselling Author of
Conquer Your PCOS Naturally
www.ConquerYourPCOSNaturally.com
---
Love to pin? Share the love…